Activities in Surrounding Area
Bohemian Paradise offers excellent conditions for cycling, hiking, rock climbing, water-sports and even for fishing.
Cycling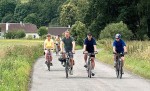 Cycling in Bohemian Paradise is a really pleasant experience, though it is not always easy. Clearly marked trails run through the entire district, taking cyclists through the rock cities, and to most local natural wonders and historical monuments. They go along forest and field footpaths, and often have a sandy base. From this attractive mix, cyclists can choose between physically demanding paths best suited for mountain or trekking bikes and paths that are manageable for families with children. Bikes can be parked in the garage.
Hiking
Bohemian Paradise offers excellent conditions for hiking all year round. It has a vast quantity of tourist attractions, such as sandstone rocks, enchanting panoramas from lookout towers and observation points, castles, castle ruins, and caves, as well as rustic log cabins with galleries, and a variety of museums. Just like in most of the Czech Republic, the region's hiking trails are very well-marked.
Swimming Pool

Close to the house (200 m) is a swimming pool. A small pool for children and non-swimmers is near by. Volleyball court, ping-pong table and table soccer is available on site. Balls and other equipment are for rent at snack-bar for a small fee.
Distance: 200 m
Rock Climbing - Hrubá Skála (Skalák)
The sandstone rock towns of Bohemian Paradise offers excellent conditions for rock climbing. The Hrubá Skála area, a wooded ridge between Hrubá Skála and Turnov with bizarre sandstone formations which create a rock town with more than 400 sandstone towers up to 55 m high and the renowned climbing areas of Maják, Kapelník and the Dragon Cliffs (Dračí skály), is of great interest to visitors.
Distance: 3 km
Skiing - The Sports Centre Ještěd
The Sports Centre Ještěd is the most accessible winter sports resort. With total length 9km of slopes the terrain is suitable for everybody - for small children and for demanding skiers as well. You can choose from various ability levels.
Distance: 30 km (motorway)
More information: skijested.cz, skijizerky.cz
Contact form